News
Chief rabbi condemns Hamas, mourns lives lost in Gaza
The Chief Rabbi of Ireland has thanked the Irish Government for speaking out against the Hamas attack on Israel last weekend.
However, Yoni Wieder criticised other Irish politicians who have "stayed silent" and alleged others had expressed support for the militant group.
His comments come as the Government confirmed that it would increase aid to the Palestinian people.
Speaking on RTÉ's News at One, Chief Rabbi Wieder said: "The Jewish community here would ask for nothing less than unequivocal, outright condemnation of Hamas across the political spectrum.
"We don't equate civilians in Gaza with Hamas, we have huge anguish and pain over the number of innocent Palestinians lives that have been lost in Gaza.
"Hamas is a designated terrorist organisation whose aim is to murder Jews and eliminate Israel and they need to be condemned unreservedly and Israel's right to protect itself must be expressed."
Chief Rabbi Wieder described his and the Irish Jewish community's initial reaction to the Hamas attack on Saturday as "shock and horror".
"We're talking about the worst kind of atrocities being carried out by Hamas, storming villages and going from house to house.
"No civilised person can see this and not be horrified, and no civilised person can see this and not be numb to the core. Particularly in the Jewish community in Ireland which has very strong ties with Israel.
"We have hundreds of Israelis living here in Dublin, you don't have to look far to find people here who have friends and family here impacted in the worst possible ways."
We need your consent to load this rte-player contentWe use rte-player to manage extra content that can set cookies on your device and collect data about your activity. Please review their details and accept them to load the content.Manage Preferences
Families in Ireland have 'no idea' if relatives are 'dead or alive'
The chief rabbi said that every few hours since Saturday he has received calls or messages from members of the Irish Jewish community who have learned about a family member who has died.
"There's one family from the community whose aunt and uncle were taken into Gaza on Saturday. The family has no idea if they're dead or alive and considering the barbaric things that have been done to these hostages, you can imagine what it must be like to know that's what your loved one is being subjected to."
Chief Rabbi Wieder said the security recommendations put forward by gardaí have been implemented and the community is "happy with the security being put in place".
"For many members of the Jewish community here, war in Israel doesn't translate to any fears here in Dublin. But at the same time a lot of families, particularly Israeli families, I would say do feel a heightened sense of anxiety.
"We are working closely with the garda and local authorities, and we are grateful for their ongoing support."
The chief rabbi added that the best way to support the Jewish community in Ireland is to make public declarations of support for Israel's right to defend itself and condemn Hamas.
Important to meet 'full gambit' of Palestinian need – Martin
Ireland will be "increasing aid to Palestinian people" but needs to "work out the specifics" of what that will involve, Tánaiste and Minister for Foreign Affairs Micheál Martin has confirmed.
Speaking at a post-budget briefing at Government Buildings, Mr Martin said that Ireland is aware of the importance of meeting the "full gambit of need to Palestinian people".
He said this includes United Nations development aid and other supports.
Mr Martin referenced a UN support fund focused on educational funding and of which "Ireland is seen as one of the consistent funders".
He also said that the Irish Embassy in Israel and representative office in Ramallah have been in touch with Irish citizens in the region.
Mr Martin declined to say how many people have been in contact, but confirmed the Department of Foreign Affairs has asked "any citizen to contact us".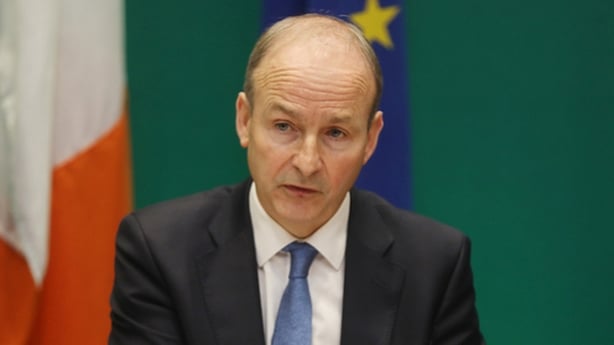 Mr Martin also confirmed that a number of Defence Forces personnel on duty as part of UN attachments in the region "are safe".
"They are following protocols and are very alert to the challenges there, particularly in Lebanon and the potential there," he added.
Mr Martin said "the focus is to try and prevent regional escalation" – naming Lebanon, Syria and "broader regions" – and that the department "remains "in regular daily contact".
McDonald seeks end to conflict
The attacks by Hamas have "rightly" been met with outrage and all hostages must now be released, the Sinn Féin leader has told the Dáil.
Mary Lou McDonald urged the Oireachtas to come to together to work towards a cessation of hostilities and to bring about a just peace.
She said the violence comes against the backdrop of decades-long injustice for the Palestinian people while the international community has looked the other way.
Men, women and children in Gaza are now staring annihilation in the eye, Ms McDonald added.
"We need ceasefires, dialogue and an upholding of international law," she said during Leaders' Questions.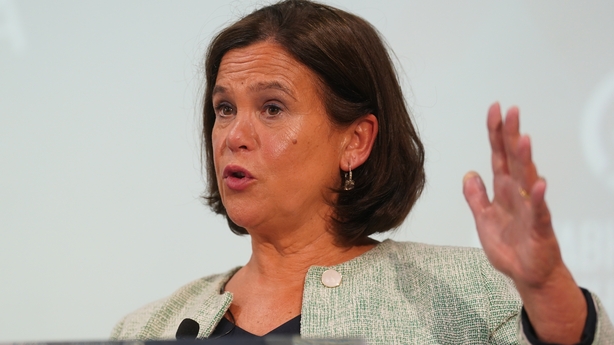 The Taoiseach said civilians were targeted last weekend and Israel has a right to defend itself because it is surrounded by enemies.
But Leo Varadkar said this has to be done in a proportionate way.
There must be restraint and it is not ok to target civilians or civilian infrastructure like electricity and water.
Irish and European Union aid to Gaza will continue because it is needed for the Palestinian people, he added.
"We still believe that the only way to bring peace to the region is through a two-state solution."
The Taoiseach said that Hamas must renounce using violence as a means to achieve its objectives.
Labour Party leader Ivana Bacik condemned Israel's retaliatory attack on Gaza which she said she watched with "grave dismay".
She told the Dáil that "over a million children" are "now being subjected to collective punishment in Gaza without any way of escape".
She also "[condemned] outright the appalling slaughter by Hamas of civilians" which we all "watched in horror".
"These two statements should not attract controversy," she added.
"I agree with your broad comments. Those two statements should not be contradictory," the Taoiseach replied.
"In the US, in large parts of Europe, it's not possible to say what you said. Thankfully in Ireland, it is possible.
"Some of the discourse that I've seen online makes it feel like some sort of culture war – that you have to choose sides – and you have to be either entirely on one side or the other," he said.
But Mr Varadkar noted that reality is "more complicated" and that wrongs have been committed on both sides.
People Before Profit TD Richard Boyd Barrett accused Israel of inflicting war crimes on the people of Gaza.
The Taoiseach responded by saying he was disappointed the deputy did not condemn Hamas and Hezbullah, or their actions.
Additional reporting Fiachra Ó Cionnaith, Mícheál Lehane, Tommy Meskill