Culture
Joachim Cooder on Ry, the mbira and Sinéad O'Connor
He is the son of one of the most revered musicians of the past fifty years, but Joachim Cooder is a force in his own right. He's in Ireland next week for a four-date tour
"That was incredible, being in the room and being able to watch them do that song. I already loved She Moved Through the Fair but to hear her sing it with my dad on guitar was such a privilege. It still gives me chills just thinking about it."
Joachim Cooder is recalling the day he joined his father, one Ry Cooder, for a session in Clinton Recording Studios in New York in 1994 with The Chieftains and the late, great Sinéad O'Connor for The Long Black Veil album.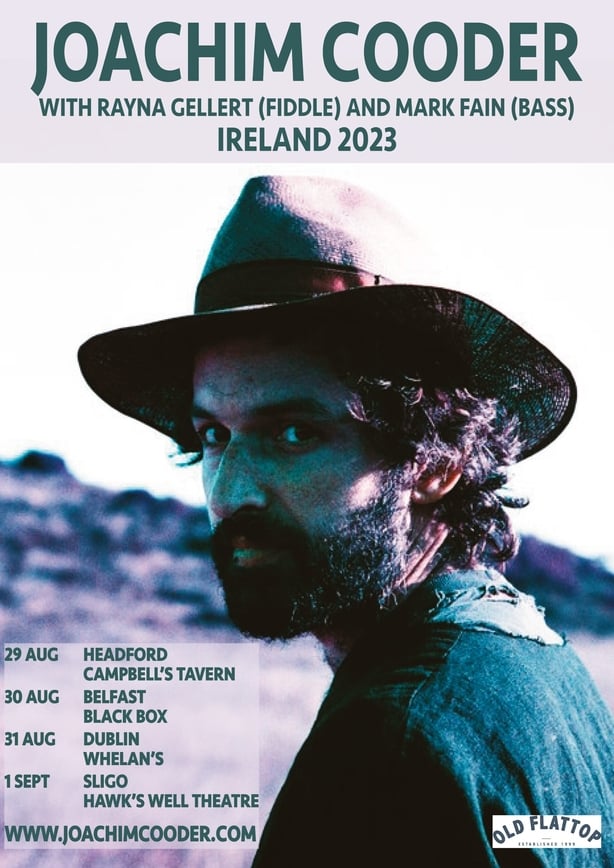 Joachim was only 16 at the time. "I met her afterwards," he says. "And I was such a huge fan of hers, so I probably didn't say much . . . "
It's just one of many, many special moments the 46-year-old multi-instrumentalist and singer can look back on his own music career.
The younger but no less gentlemanly and friendly Cooder has worked with an array of stellar acts over the years, including Buena Vista Social Club, Johnny Cash, John Lee Hooker and Mavis Staples. And of course, he's also appeared on many of his famous father's albums.
Joachim and his hotter-than-jalapenos band are in Ireland for a four-date tour, calling into Galway, Dublin and Belfast, and Sligo, next week and given his musical upbringing, you could say Ireland is something of a heart home for the easy-going musician.
"Growing up, my dad worked a lot with Paddy Moloney and The Chieftains, and those records were a big part of my childhood," he says over Zoom from his house in Altadena, California.
"I think the influence of Irish music on bluegrass and folk music is such so apparent. I think so much of those fiddle melodies can be traced right back to their roots in Ireland, and I think that's where a lot of that music started from."
In fact, the fiddle will be one of his secret weapons when he hits Ireland – "Rayna Gellert, who's the fiddle player on my Uncle Dave record, will be with me," Joachim says.
We need your consent to load this YouTube contentWe use YouTube to manage extra content that can set cookies on your device and collect data about your activity. Please review their details and accept them to load the content.Manage Preferences
"She is the most crucial member of my band, especially in Ireland, because when she plays fiddle and viola all the Irish melodies come leaping out of the song. For the dates in Ireland, she had to be there to make these songs happen."
Joachim will be playing a wide range of songs including tracks from his most recent solo album, Over That Road I'm Bound, on which he brought a new shine to the music of country music pioneer and old-time banjo player Uncle Dave Macon.
Nearly a century ago, the Tennessee native was a major star and one of the earliest regulars on the Grand Ole Opry.
However, Joachim took a very different approach to Uncle Dave's material, reinterpreting the songs of a founder father of American music with his chosen instrument: his other secret weapon: "a huge and humongous" electric mbira, which is a variation on an African thumb piano.
Joachim is probably best known as drummer and percussionist but when he first heard the mbira, he was hooked.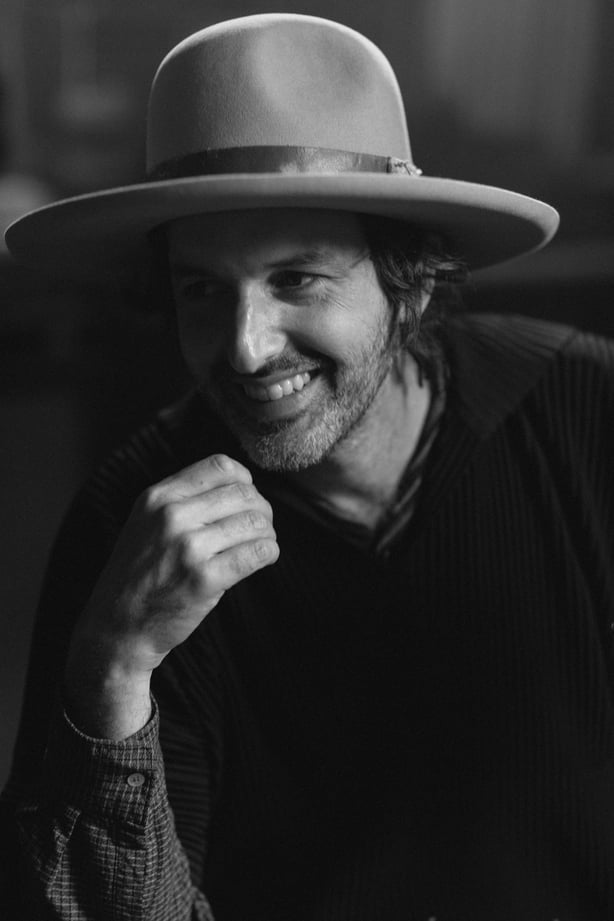 "It's my main instrument when I tour this record. I bring it and a couple of foot pedals that I send it through an amp and create the sound. These big sort of stereo images. I do not go anywhere without it," he says.
"I took to it straight away because I'm a drummer and I found it very percussive and it's also not chromatic, it's not laid out like a piano so it's more modal.
We need your consent to load this YouTube contentWe use YouTube to manage extra content that can set cookies on your device and collect data about your activity. Please review their details and accept them to load the content.Manage Preferences
"I started playing it on film scores or around the house and on records but then this guy started making solid body electric versions and that changed everything because I could just plug it into a guitar amp and get a good, distorted sound and play it on stage and that led me to start singing my own songs."
In fact, Ry played it on the 1992 thriller Trespass by director Walter Hill, who Ry also worked with on the terrific Southern Comfort in 1981.
"Trespass is a really great film, but nobody saw it," says Joachim. "Probably four people saw it, but the soundtrack is very wild. It's just dad, Jim Keltner on drums and Jon Hassell, the trumpet player, who we also lost very recently.
"Dad never goes into any situation and goes `I am the great Ry Cooder, you will do with I say!' Real musicians are never like that."
"It's almost like a free jazz, very tense. Keltner tapping on drums with his fingers really fast and Hassel playing trumpet and dad on the floor slide. It's really just the three of them."
Joachim jokes that he half expects "the banjo police" to turn up at his front door for taking bluegrass tunes in a whole new direction, adding that it was actually his very young daughter who really inspired him to bring Uncle Dave and the mbira to a whole new audience.
Joachim Cooder
With Rayna Gellert (fiddle) & Mark Fain (bass)
A celebrated percussionist who has worked with a number of respected roots & world music artists. His music is an atmospheric blend of folk, blues & African music.
Fri 1 Sep
🎟>>https://t.co/bErjvA3ZL2 #HeartOfSligo pic.twitter.com/CdOGbwacxT

— Hawk's Well Theatre (@HawksWellSligo) August 20, 2023
"One of the reasons I started learning his songs was probably because my daughter, who was two at the time, found Uncle Dave so funny.
"I would play his records and she'd be eating breakfast. He'd say these little phrases and she would talk to him as if he was sitting in the room.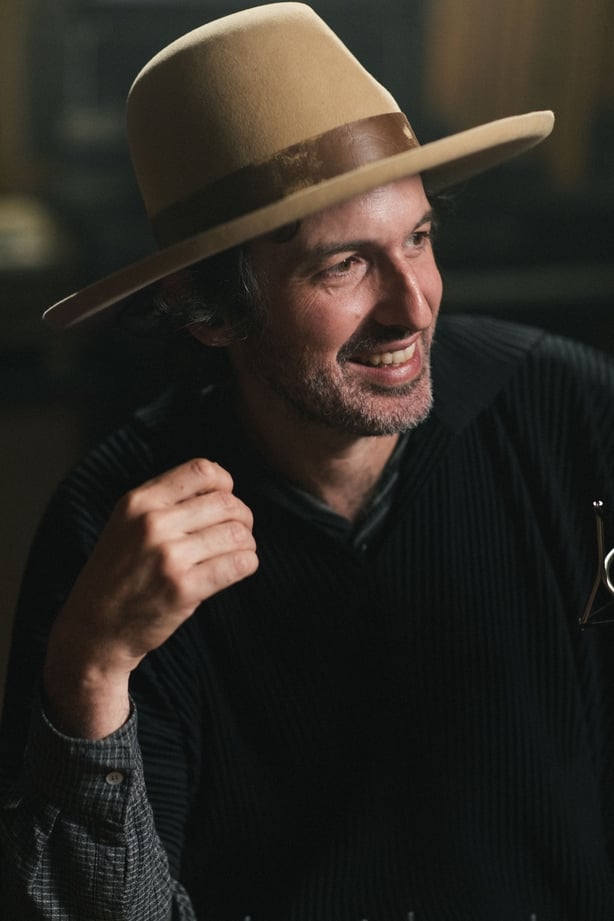 "He'd borrow phrases from blues and folk music of the time. He'd say, `my name is Uncle Dave, I'm from Tennessee if you don't like my peaches, don't shake my tree'. My daughter thought that was soooo funny."
In what must have been a magical and very musical childhood, Joachim started playing drums at only four years old and he had quite a tutor – Jim Keltner, a world-renowned player who has appeared on 11 Ry Cooder albums and records by George Harrison, BB King and, less we forget, is the man behind the superlative drumming on Steely Dan's 1977 track Josie.
"I couldn't have been more than four and there was a record that dad and Jim were recording called The Slide Area and they were doing it in the house," says Joachim. "Everything was set up and Keltner left his kit set up overnight when everyone went home. I would come down early in the morning and play it before he arrived.
"He got there one morning and saw me playing so he gave my first kit, which I still have. It's a little Remo PTS, very light, you could hold the whole kit in one hand but it's a really good sounding drum set to this day. I still sometimes use it."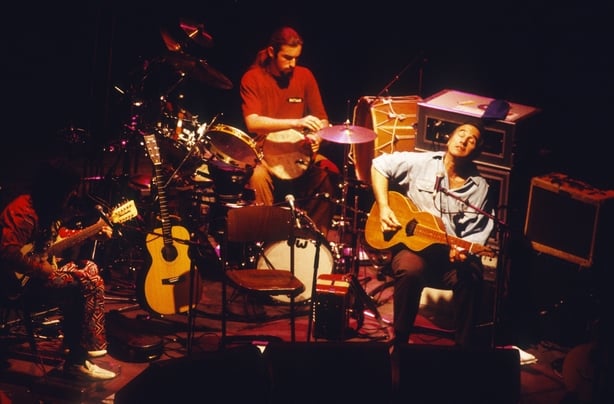 And after years of working with Ry there is a natural simpatico between father and son.
"I think so," the younger Cooder says. "We went to Cuba for first time for Beuna Vista and we just walked in, and nobody knows what's going to happen and you have to just listen and be completely sympathetic to the people around you.
"Dad never goes into any situation and goes `I am the great Ry Cooder, you will do with I say!' Real musicians are never like that, and everybody is so generous and listens to each other and that's the great beauty to doing that because you learn so much that way.
"That's something I learned very early on working with dad. When I was really young he went to Nashville and did a song with Johnny Cash for the Dead Man Walking soundtrack and that was the same thing.
"They didn't know who I was, but I came in and listened and didn't get in anyone's way, hopefully, and that's something you have to do and that's something my dad has done so well – lift up the situation rather than force your will onto people."
Alan Corr @CorrAlan2
Joachim Cooder's Over That Road' Irish Tour visits: 29 August: Campbell's Tavern, Headford, Galway. 30 August: The Black Box, Belfast. 31 August: Whelan's of Dublin. 1 September: Hawk's Well Theatre Sligo. Tickets on sale here.