Sport
Kenny and McClean on the one road from Derry to here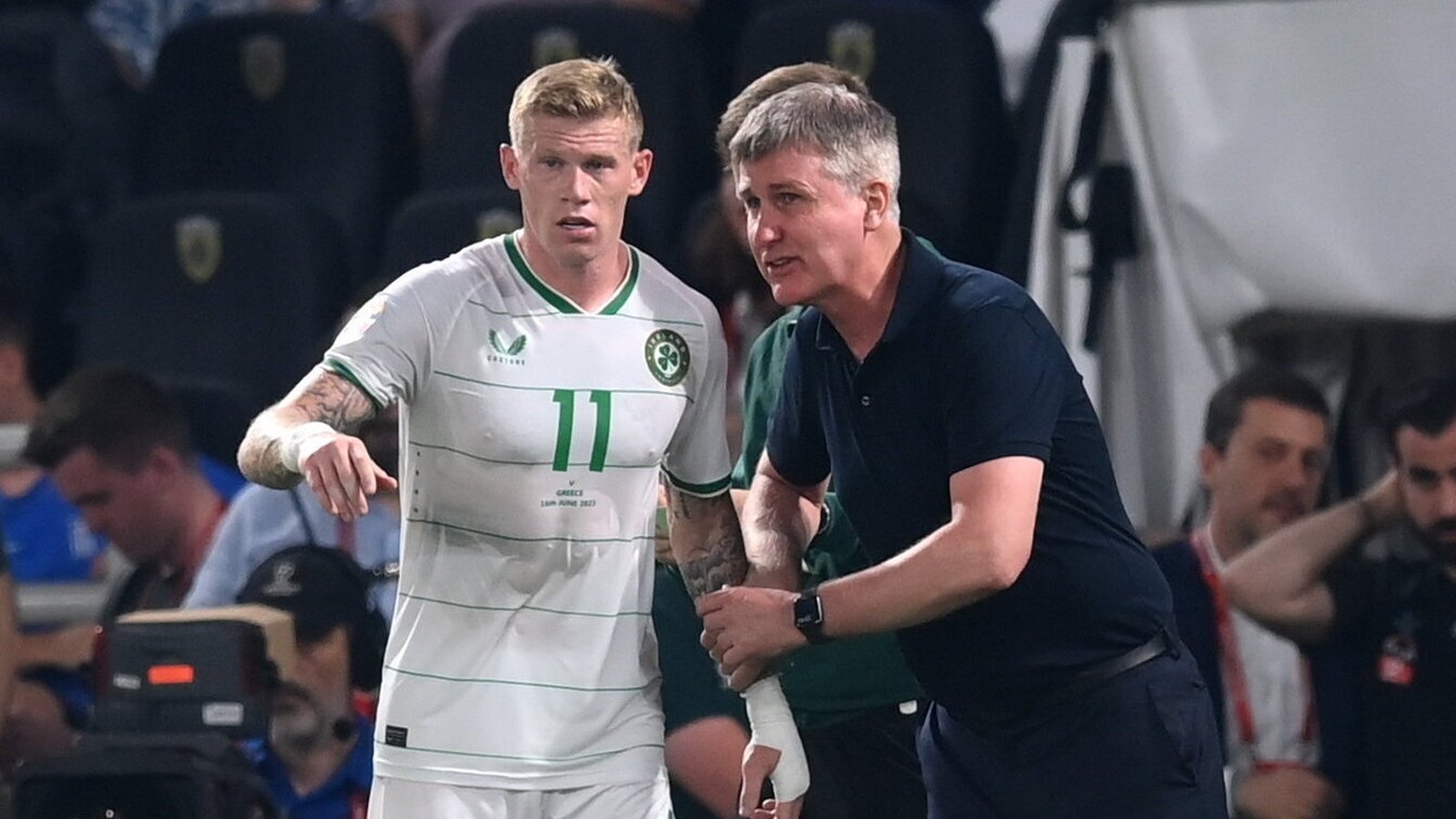 Stephen Kenny handed James McClean his League of Ireland debut, and the two were on hand once again to bid farewell to the Derry native's exceptional international career.
Teenager McClean was handed his first team debut under Kenny's Derry City tenure at the Brandywell back in 2008 and three years later he moved across the water to sign for Sunderland.
An Ireland debut would follow soon after as McClean broke into Giovanni Trapattoni's squad for Euro 2012, and now with 102 caps under his belt, the time has come to step away from his Ireland career.
McClean joined the manager for his pre-match press conference ahead of Tuesday night's friendly international against New Zealand, and it proved an emotional trip down memory lane as the manager spoke fondly about the retiring Wrexham man.
"I had the pleasure of giving James his debut when he was a young player at Derry City," said Kenny. "He had tremendous determination, and he went on to play for Sunderland and a variety of clubs where he showed fortitude, real mental strength.
"Great skills as a left winger, very direct, a high number of goals and assists for a winger and always worked tirelessly for the team, and then he adapted and became a left back or wing back, you have to be able to adapt, it was terrific really.
"It shows his quality. He deserves credit for the career he has had – 103 caps is something special."
"I remember seeing you in the Showgrounds, in the Under-18 team," Kenny said to McClean. "You came into that team at Derry where we had a rule when we went to the First Division that everyone had to be from within six miles of the city, pretty strong, that team, wasn't it?
"It was one of the most special times in my career," replied McClean. "As we were all young, we were all mates, it was basically playing football with your mates, we would go out on the Friday, put teams away for fun and then go out that night.
"That was a special time, it was a local team, all best mates, having the time of our lives, playing with so much freedom that the manager gave us, we got promoted and we were very unfortunate not to win the league the following year."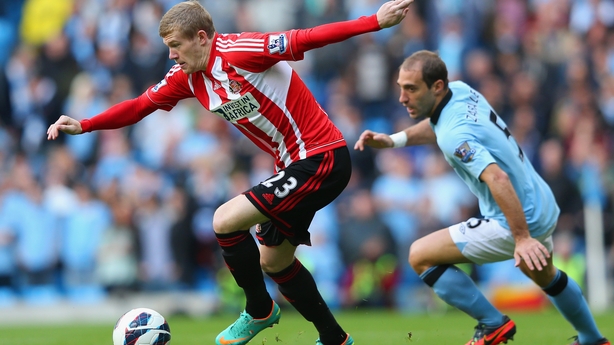 McClean had left his hometown club by the end of that 2011 season and the manager followed him out of the Brandywell, taking up a job with back-to-back league champions Shamrock Rovers, but while the player's career went on an upward trajectory, the manager hit a major bump in the road and didn't see out the season at the famous Dublin club .
A blessing in disguise perhaps for Kenny, who rebuilt his reputation pretty quickly while transforming a club in the process by bringing Dundalk from relegation candidates to league champions the following year.
Unprecedented success followed at Oriel Park, leading to Europa League group stage qualification, and the manager was then rewarded with a job at the FAI, first as Under-21 manager and then onto the senior role three years ago.
Now the end of Kenny's international career could coincide with McClean's following the culmination of the current Euro campaign in the Netherlands on Saturday night.
And the manager was still processing the defeat and took exception to further criticism for the performance on Saturday night, using the opportunity to take a swipe at previous regime records.
"It wasn't like we lost 4-1 to Wales or got hammered in Cyprus or Macedonia the other night, it was a tight game in Holland that we lost 1-0 and deserved to lose. It was one of those games, I think a bit of perspective on that, you know?"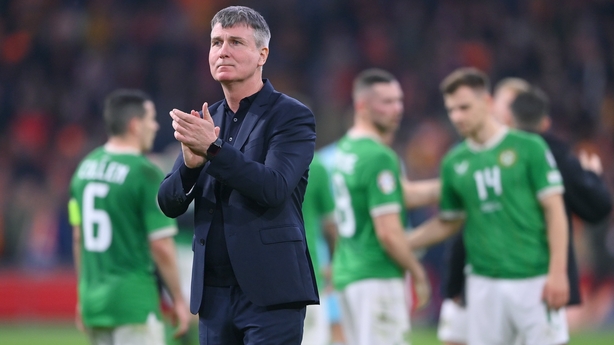 Kenny, of course, was referencing Martin O'Neill's defeat in Cardiff, Steve Staunton's humiliating loss in Cyprus and Mick McCarthy's defeat in Skopje.
Naturally, the manager was questioned further on the comment, and Kenny was quick to realise that it was probably a touch below the belt by saying "you can add one or two of mine onto that for sure".
And the manager would not elaborate when asked if he felt that he had not been afforded enough respect by his predecessors.
"To be honest with you, it's not something I really want to get into now," said Kenny.
"Tomorrow is a big game for James McClean and New Zealand, a big game for the whole team to try and win the game. As you mention, it could be our last game – myself, Keith Andrews, John O'Shea, Dean Kiely, Stephen Rice and all the backroom team who have been brilliant behind the scenes.
"I think criticism from Brian Kerr or anyone else, it's not something I really want to get into here and now. I understand the question, but I think today is probably not the day for that."
Kenny was in reflective mood, however, and there was a sense that he really would love another chance to help mould this team into the future, admitting that he would have hoped to have enjoyed more continuity in his starting XI, building the team around a core of key players.
"It is true that successful teams are based on an element of continuity," said Kenny when asked about his ever-changing eleven. "But international football is not like club football at all because it's window to window.
"Ideally, there would be more continuity in a perfect situation. That's why teams like France are the best as well, not because they have a huge pool of depth, but they do have a lot of continuity with their starting XI and that helps.
"I would be working towards that. That would be the picture…Chiedozie would play wide on the right, Mikey Johnston…so they're our two best wingers. And we've got these centre-backs, so we've got that adaptability. Liam Scales obviously gives us a natural left foot. Andrew Omobamidele is a terrific talent coming through [but] you have to have depth in positions if you're going to build anything.
"The best teams obviously have an element of continuity and you're working towards that. Success is important and everyone wants to qualify for tournaments, we all want that, if we don't then people aren't going to wait for you, I get that as well. Patience, patience is a virtue."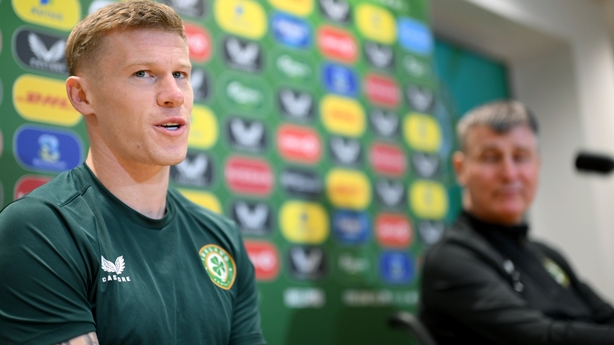 McClean played at two European championships with Ireland during his 11-year stay in the side, and he is convinced that the emerging generation will play at similar tournaments in the near future.
"No doubting there's so much potential there," said McClean. "As each passing year goes, there'll get experience at this level, good and bad, and will take that forward.
"This group of lads are the future of Irish football. There's no taking away from that. It will get better with experience. The ability is certainly there. I am actually very confident that this group of players will reach major tournaments."
Kenny then took umbrage to a question from a journalist who asked McClean whether he felt that the next manager should be Irish.
"I don't think that's a fair question while I'm still in the job, to speak about the next manager," interjected Kenny. "I don't think that's fair, the decision hasn't been made."
McClean was also asked to describe the four Ireland managers that he has played under, and while the Derry man had earlier said that he had not decided if he would go into coaching, he did suggest that if that day came, he would take bits from all four "great men".
"Obviously, all different but the one thing that I would say it that they've all got in common is that they're all great men," said McClean, regarding Trapattoni, O'Neill, McCarthy, and Kenny.
"I had a good relationship with each and every one of them. Their passion for the game, you can see how much it meant to each and every one of them. If I ever do go into coaching you know, which is not on the agenda, I've seen so many great qualities off all four of them. I would like to take bits and bobs into my own managerial career, if it ever one day comes."
We need your consent to load this YouTube contentWe use YouTube to manage extra content that can set cookies on your device and collect data about your activity. Please review their details and accept them to load the content.Manage Preferences
Watch Republic of Ireland v New Zealand on RTÉ2 and RTÉ Player on Tuesday from 7.30pm, follow a live blog on www.rte.ie/sport and the RTÉ News app or listen to commentary on RTÉ Radio 1 Extra