News
Tánaiste signs memorandum of understanding with Jordan
Tánaiste Micheál Martin has signed a memorandum of understanding between Ireland and Jordan to create a political dialogue between the two countries.
In Amman, the capital of Jordan, the Tánaiste met the country's deputy prime minister, Ayman Safadi, to sign the document.
"We have tasked our officials now to take that forward and to create a roadmap on areas where we can have a structured dialogue politically, but also develop cooperation and joint shared projects in a range of areas," Mr Martin said at the Jordanian foreign ministry.
The Tánaiste said there was "very strong potential" for investment and trade between the two countries, noting that Enterprise Ireland was offering advice to Irish business people who wished to invest in Jordan.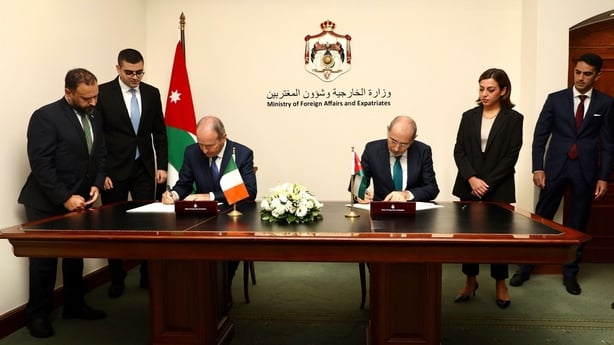 Following two days of engagements in Israel and Palestine, Mr Martin and Mr Safadi also discussed tensions in the region.
The Tánaiste said that Ireland and Jordan shared "similar positions" in relation to the Israel–Palestine peace process.
He said that Ireland believed in a two-state solution to the conflict.
"We believe in a mature approach to building relationships and reconciliation between people," he said.
The Tánaiste also referenced the Irish peace process.
"We've had to work hard to build reconciliation, which we had done working with the British government and all of the traditions in Northern Ireland and had had some considerable success on that front," he said.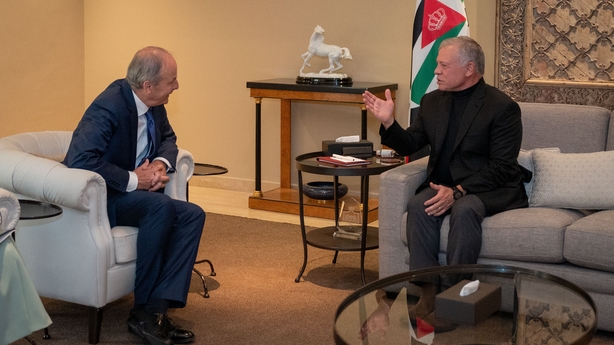 The Tánaiste also met the King of Jordan, during which they discussed peacekeeping and cooperation on security and economic matters.
Mr Martin said it was a "great honour" to meet King Abdullah II.
In the country's capital, Amman, they also discussed the Jordan Young Scientist competition. Inspired by the Irish equivalent, the contest was established by the Irish embassy in Jordan last year.
Mr Martin also thanked King Abdullah for Jordan's leadership in supporting Syrian refugees.
After meeting the King, the Tánaiste arrived at Hussein Technical University to discuss innovation with academics and entrepreneurs. There, he will meet winners of the Young Scientist Competition.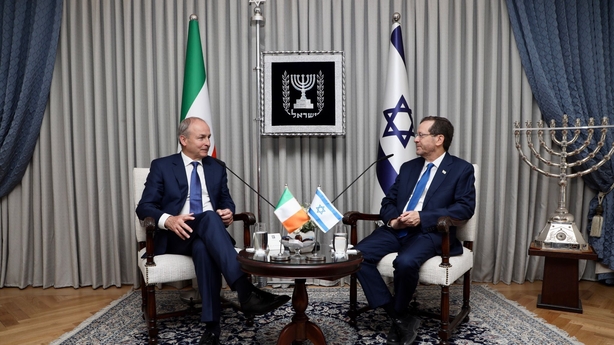 Earlier, before he departed Jerusalem, Mr Martin met Israeli President Isaac Herzog at his residence in the city to discuss bilateral relations and regional issues.
President Herzog was interested to hear about Ireland's Shared Island initiative, the Government's programme to encourage north–south cooperation, as a way to bring people together in practical ways.
The Tánaiste and Mr Herzog also discussed the importance of dialogue, as well as security issues.
Mr Safadi said he believed the memorandum of understanding would allow them to "nurture and grow" the existing strong relations and friendship between the two countries.
The Tánaiste also thanked Mr Safadi for Jordan's assistance with respect to the evacuation of Irish citizens from war-torn Sudan.
The country provided support to the operation conducted by Ireland's Emergency Civil Assistance Team.