News
Women encouraged to consider construction careers
The shortage of construction workers is one of the biggest challenges facing the building industry amid warnings that there is not enough skilled labour to meet the demand for housing.
Efforts are under way to try to encourage more women to enter the sector.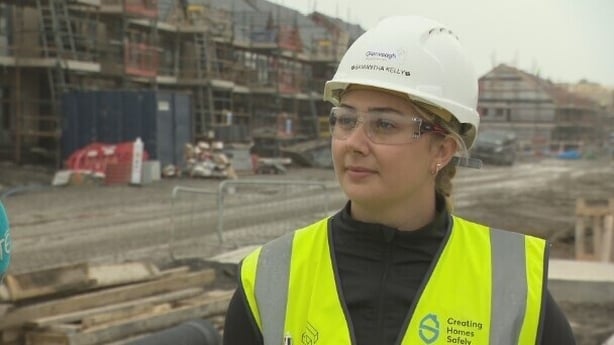 Programmes have also been launched aimed at boosting interest in construction careers among school children.
On a building site in Co Kildare, construction management graduate Samantha Kelly is carrying out her daily site inspections.
She may be working in what is still a male-dominated industry but Ms Kelly said she has always felt welcome on the building site.
"There is actually quite a few female construction workers here on site," she said.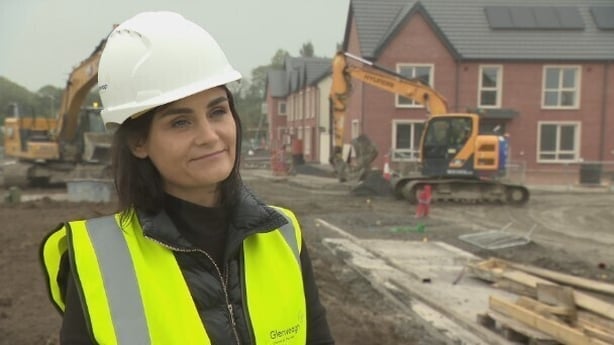 "We have a lady that drives a big dumper, we have another intern doing construction management and we have a woman in health and safety. Overall it is still male-dominated but women are coming up into it now."
"You never feel out of place. It is very diverse and you are always included."
"Women should definitely look at construction as a career. There are different stages and you don't have to work on-site if you don't want to," Ms Kelly said.
Ms Kelly works for Glenveagh Construction which is focussed on creating a broader and more inclusive workforce as a way of tackling the labour shortages that it is currently facing.
"It is a challenge. We are looking for project managers, programme managers, site leaders but also lots of roles inside the office such as in learning and development," said Barbara Robinson, Training and Organisational Development Manager with Glenveagh.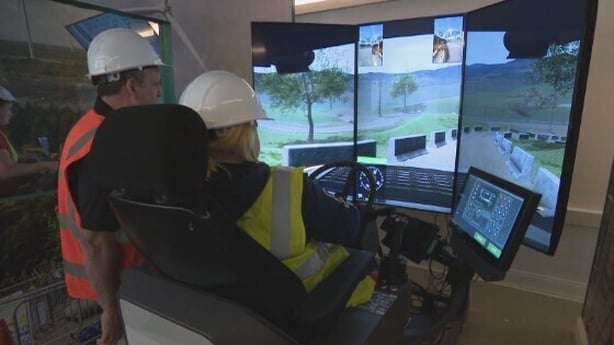 "There is a misperception about what it is like to work in construction. It's not all about mucky boots, it's a good place to work.
"We foster diversity and inclusion, we have great policies in place and my role wouldn't have been there a few years ago. I look after nurturing and developing talent, offering mentoring and coaching," Ms Robinson said.
Encouraging more women to take up jobs in construction is a key part of the Government Action Plan aimed at boosting employment in the sector.
The shortage of skilled labour is one of the biggest challenges facing building companies.
It has led to rising wage costs which in turn is contributing to increasing tender prices.
The Society of Chartered Surveyors Ireland said more than 100,000 additional workers will be needed across property and construction over the coming decade to meet demand.
President of the Society of Chartered Surveyors Ireland Enda McGuane said: "I think what we see across all aspects of the industry is that there are shortfalls everywhere and that gives people opportunities"
"There is everything from block layers to carpenters and the Society of Chartered Surveyors also has a range of disciplines such as quantity surveyors, building surveyors, planning and development professionals, as well as people at the other end of the process, like property and facility managers who run people's homes."
"In addition, we need architects and engineers as well as an array of skills across all areas," Mr McGuane said.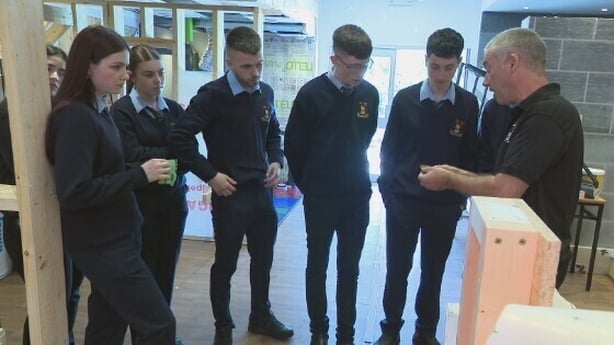 Educational programmes have been launched designed to encourage school children to think about careers in construction.
The National Construction Training Campus in Mount Lucas, Co Offaly has developed a mobile training unit that travels to schools showcasing construction and retrofitting skills.
There are in-person tutorials as well as virtual reality demonstrations.
Among those taking part in a recent session was Eimear Evans, a 6th ear student at Tullamore College.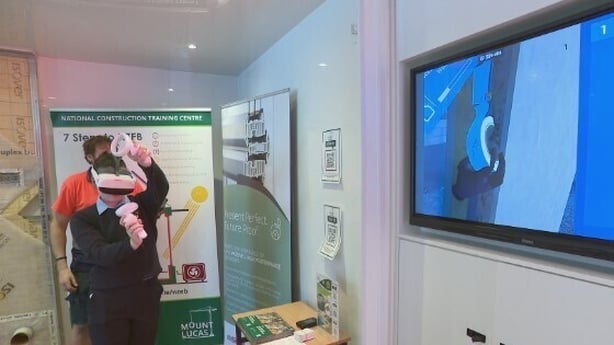 "Since I was a child, I always loved making things with my hands and I am thinking of doing architecture in college," Ms Evans said.
"I have noticed there are a lot of more men in construction but I would love to change that if I got the chance."
The National Construction Training Campus also has state-of-the-art simulators to train people how to operate plant machinery.
"The simulation hub has construction plant machines from tower cranes down to mini diggers," said John Kelly, Manager of the National Construction Training Campus.
Mr Kelly said: "It is about showing people that if you don't come from a construction background, you can still learn to operate these machines. We will train people up, put them through all scenarios before they move on to the real thing."
Away from the classroom and back on the building site, construction management graduate Samantha Kelly said it is an industry that has so much to offer.
"I love it, it is very active. You don't have to sit at a desk if you don't want to," she said.
"Construction is a great place for women."